We know how hard it can be to come to church for the first time. That's why we want to answer questions you may have to make your first time here enjoyable!
At Willowlake Church, you'll be welcomed into a friendly environment by people who are glad to have you join them.
Sunday morning services
Our Sunday morning service starts at 10:00am and is usually about an hour long. Don't sweat it if you show up late – that's pretty normal around here, so just slip in and find a seat. There's plenty of room!
When you walk in, there will be a table at the back with a few items, including an order of service. This will help you keep track of where we are in the service and have announcements for the upcoming week.
After the service we serve freshly ground coffee, tea and juice and invite people to linger for conversation.
During the service, you'll be invited to sing along with everyone as the worship team (musicians) lead us. Words will be on the screen if you want to sing along, or just listen.
We care deeply what the Bible says, so we'll also have someone read from the Bible in each service, and our pastor or a guest speaker will give a 20 minute message on what the Bible means for us today.
The first Sunday of the month, we also celebrate communion. This can be quite confusing for those new to a church! Our church believes that anyone who follows Jesus as their Leader and Saviour is welcome to join with us in communion. If you're not sure yet, that's just fine – you can come up to the pastor with everyone else, but by keeping your hands closed, you'll be given a blessing instead of communion.
A deeper dive into what we believe about communion.
Kids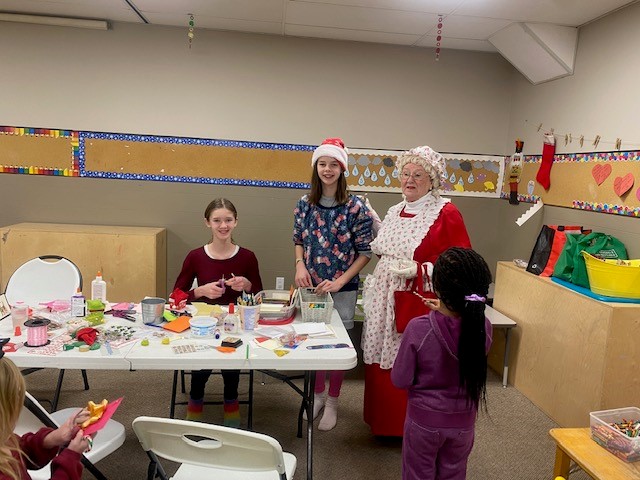 We love having children as part of our community! This means we're not bothered by crying babies, noisy kids and wiggly children. To us, that is a sign of life and we embrace it! Children are encouraged to participate in the service through joining us in singing, and are welcome to use the aisles, front and back of the sanctuary during the singing for dancing or waving flags, and we offer coloring pages to use in the pews.
Partway through the service, children ages 2-12 are dismissed to go upstairs for a more energetic, kid-centered experience including crafts, storytelling, videos and songs. Parents are welcome to come along to see what's happening, or leave your children with the experienced adult leader and teen helpers until the service is over. After the service ends, head up the stairs to pick your children up from Sunday School.
If you prefer, there is also a nursery behind the sanctuary with a one-way window to see what's happening in the main room, and a sound system we can turn on so you can hear, with toys and books for little ones, and comfortable chairs for nursing. You are welcome at any time to make use of this room, which is reserved exclusively for parents and caregivers with their children.
Dress
We're not a formal church, so you'll find a mix of people wearing jeans or dressing up a little more. Many people gravitate towards a "business casual" look, but we genuinely want you to come as you feel comfortable (yes, that means we've seen pajamas in church, too!)
Parking
We have a small parking lot connected to the church – if that fills up, JH Bruins Collegiate (across the street) has generously allowed us to use their parking lot on weekends as well.
Money
We do have an offering plate available at the back of the church for people to give. Please feel no obligation to give – this is an act of worship for those who call our church "home," to thank God for the provision in their own lives, and to help fund the ministry and priorities of the church.
Questions?
Feel free to ask lots of questions! You can call the church at (204) 256-2923 or email Pastor Kirsten at and we'd be happy to get back to you!